The 2015 Good-guys Del Mar Nationals is history, and it was grand.  I don't know what the official car count is, but it is probably a record high.
It started for me on Thursday morning.  After checking in at the Del Mar Hilton, I joined a great bunch of car folks from the Over the Hill Gang San Diego, the Prowlers Car Club and a few lone wolf like me for a fun Poker Run.  The route took 25-30 hotrods up through Fairbanks Ranch and Rancho Santa Fe to Randy Clarks Hot Rods and Custom Stuff in Escondido.  Randy Clark and his wife Peaches hosted a very nice picnic lunch for the whole gang, then gave us all the $.50 tour of the shop and surrounding buildings.
Staging for the Poker Run.

Randy found a way to park everyone in the front lot!!! Hot Rods and Custom Stuff.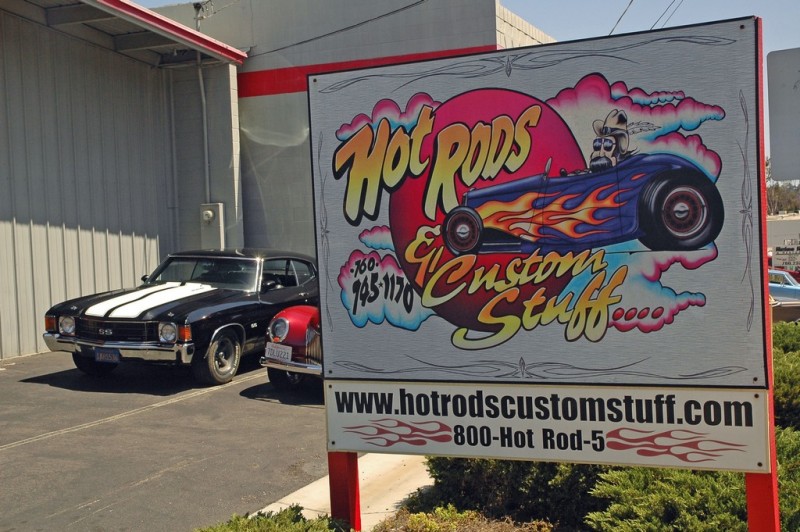 Hot Rods and Custom stuff looking looking west.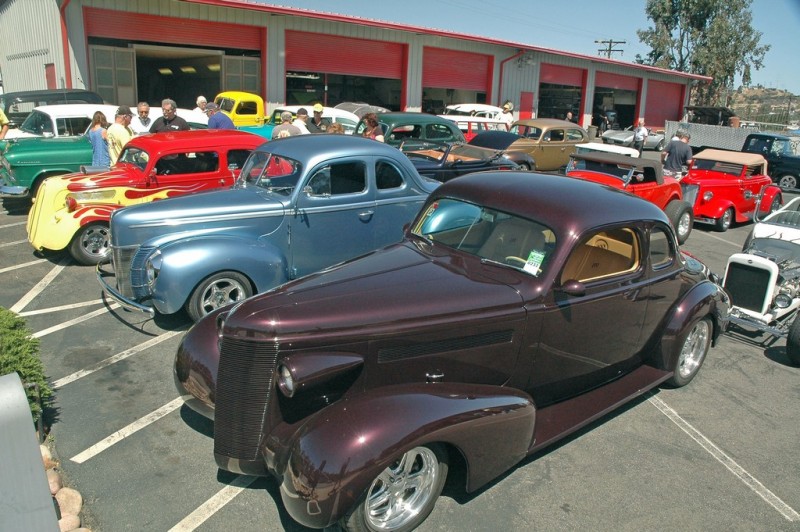 After a leisurely lunch, we departed Escondido for the sun and surf of Carlsbad.  The tour took us to a cruise down the "Strand" in Carlsbad, than back up the hill to Pacific Coast Highway back to Del Mar.
Cruising the "Strand" in Carlsbad.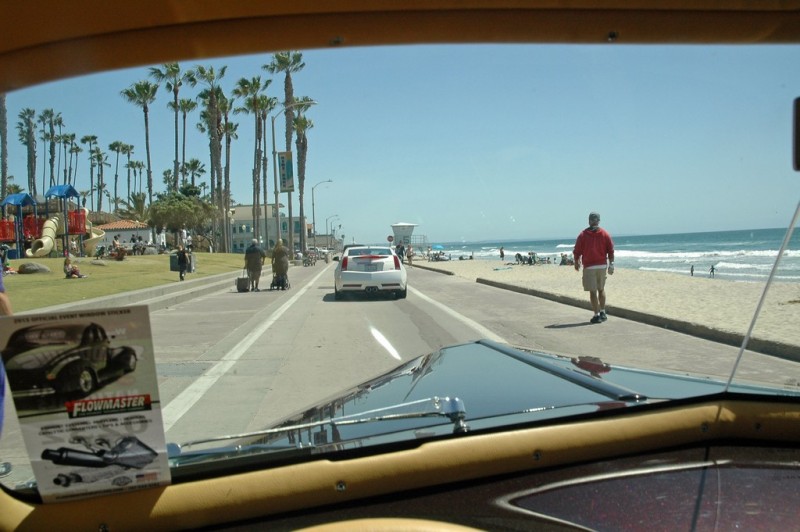 Pacific Coast Highway.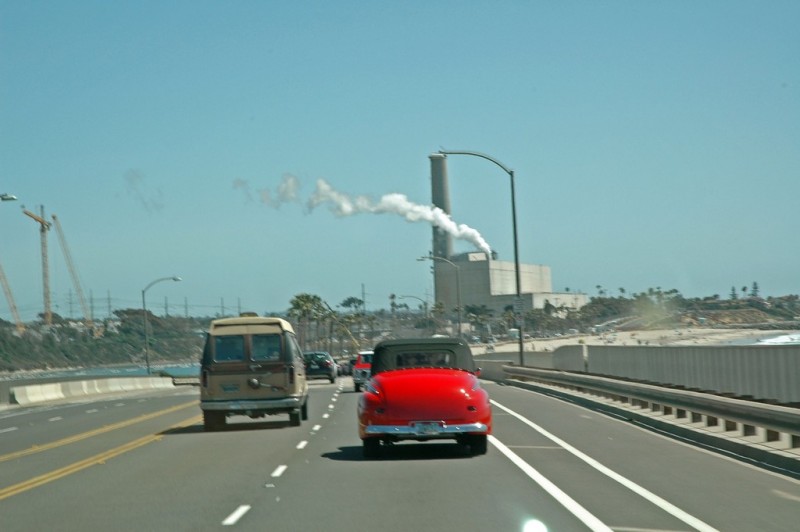 Pacific Coast Highway as usually seen.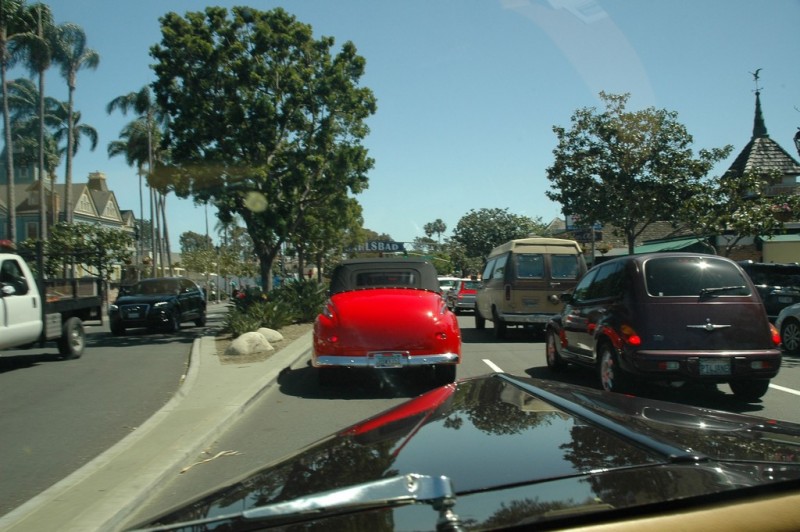 OTHG Card Sharks dealing the final card.

I did not win. Pair of jacks gets you nothing.
Friday was another Chamber of Commerce day in Del Mar.  I was supposed to participate in the Cruise of San Diego with Chick Koszis and a bunch of out of towners.  But, as fate would have it, a totally dead battery put me 3 hours behind schedule, so I just hung out at the fair grounds for a few hours. No pictures for Friday.
Saturday started nice and early; 6:15 at the Albertsons, then on the road at 6:30 AM.  Our little band of road warriors was comprised of:  George & Joyce Cowman, Wagon Master in their '37 Buick Special Coupe, Jim Knox and son in his 1955 Chevy Pickup, Fred & Terry Edwards in their 1969 Chevrolet Chevelle Malibu, Paul & Sigrid Bundy in their 1932 Ford Roadster, and Alex and Jean Ann Abosamra in their 1932 Ford Roadster.
We arrived just a few minutes before 7:00 AM, made our way through the crowd to parking in the middle of the west parking lot about 30 feet from the porta potties. Actually worked out pretty well.
The Poway Cruisers camp at Del Mar.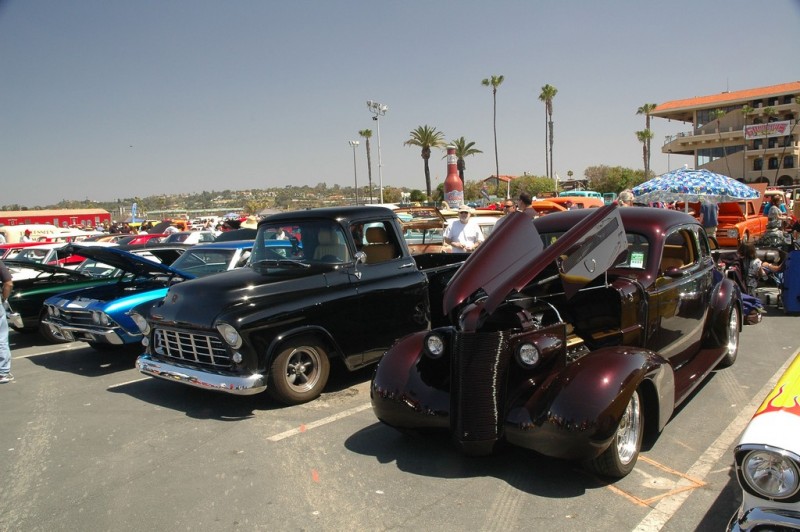 Jim Knox '55 Chevy Pickup.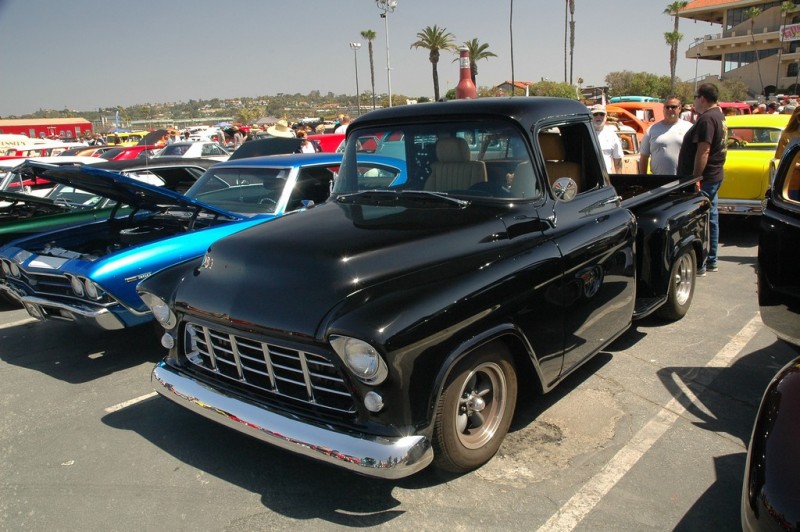 Fred & Terry's Chevelle.
Hanging out.
Sorry Paul, Sigrid, Alex, and Jean Ann.  I failed to get pictures of you and your cars at Del Mar.
The neighborhood: a '17 Dodge roadster with a 1947 Blown V8 Cadillac Flathead.
Sunday was the All American Day, basically open to anything American.  Not as crowded as Saturday, but still fun.  Earl Asbury and I drove the Buick back to Del Mar about 9:00 AM Sunday, took the full tour, then watched as the Good-guys presented over 65 awards, and showed the giveaway truck for next year. Killer.
Megabucks on Parade.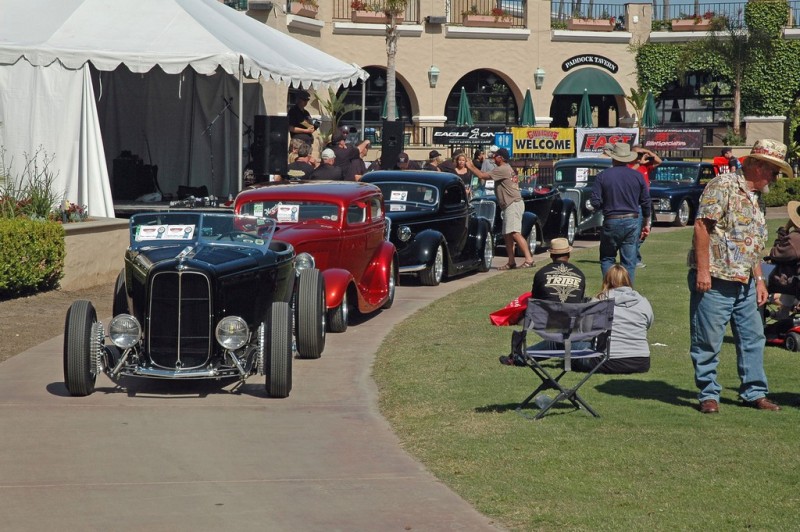 Altogether, a great show.  If you did not attend, you missed a great weekend.
George Cowman
Poway Cruisers Wagon Master
2015 Goodguys Del Mar Nationals