Well, another great day in SoCal. The day started cool and overcast, and stayed that way all morning. The August coastal eddy just would not burn off until the show was almost done. It made for a cool but very comfortable day at the park.
We started the day as planned, with four of us getting together at the Carmel Mountain Haggens at about 7:15.  We hit the road at 7:30 with a little light mist on the windshield and made an uneventful cruise to South Clairemont Park. Making the drive were:
George & Joyce Cowman in their '37 Buick Special Coupe (Wagon Master)
Gerrie & Mary Ann Griffin in their '30 Ford Model A Tudor
Lynn & Leonard Kunce driving their '41 Ford 2dr Sedan
Rick & Linda Milford with their '31 Ford Model A Vicky
We had a little challenge finding the entrance for the car show, but eventually found it and got parked. Once parked, we found that several other club members had arrived earlier, but where scattered around the event. As the show was filling up, everyone just stayed put.  The members that arrived earlier where:
Chuck Kramer driving his '28 Chevrolet Touring
Louis & Joyce Heyn in their '68 Camaro
Brenda Anthony with her '99 Jeep Wrangler (complete with girly eyebrows)
Brian Burns sitting in the shade with his black '68 Camaro
Keiichi Yamamoto with his killer '55 Jaguar XK140 MC FHC
We chilled and hung out enjoying the festivities, ate some pretty good pancakes and sausage, pulled pork sandwiches, handmade sandwiches, and Nana's Hot Dogs. To raise some funds for the San Diego Car Club Council they had an opportunity drawing for some nice gifts and a $167.00 50/50 pot.  Our group took home a few gift prizes, but struck out on the 50/50.  We did better with the car awards, with Keiichi Yamamoto's '55 Jaguar and George & Joyce Cowman's '37 Buick taking home awards.  The council also recognized the top 10 clubs that participated in the event based on number of cars from the club in attendance. Poway Cruisers were one of the 10 so we have another nice plaque for the collection.
Click on a Picture to enlarge.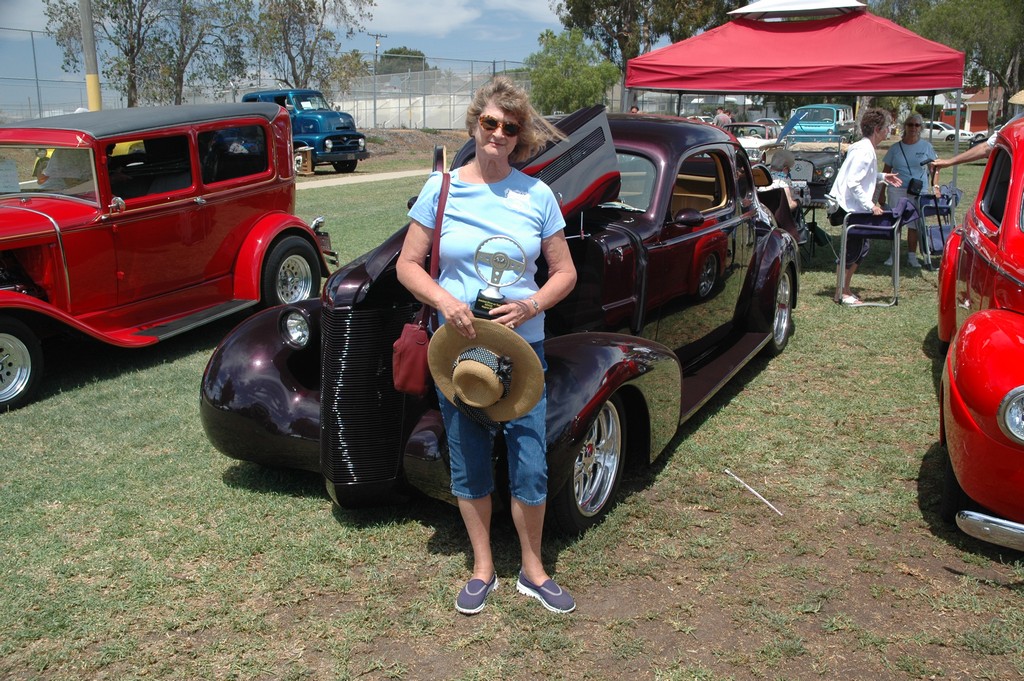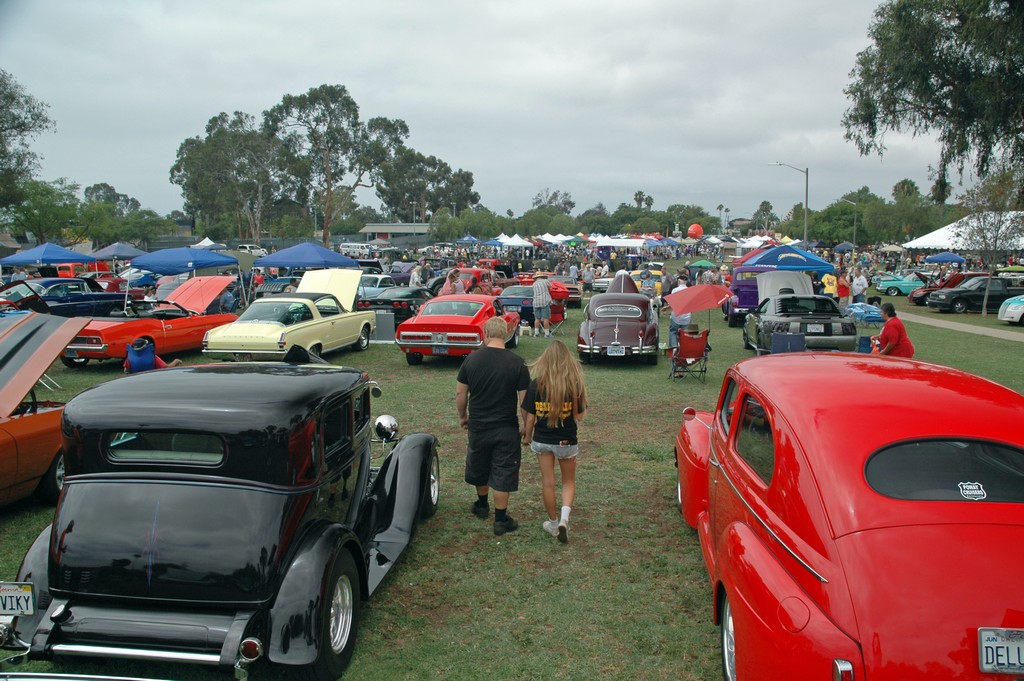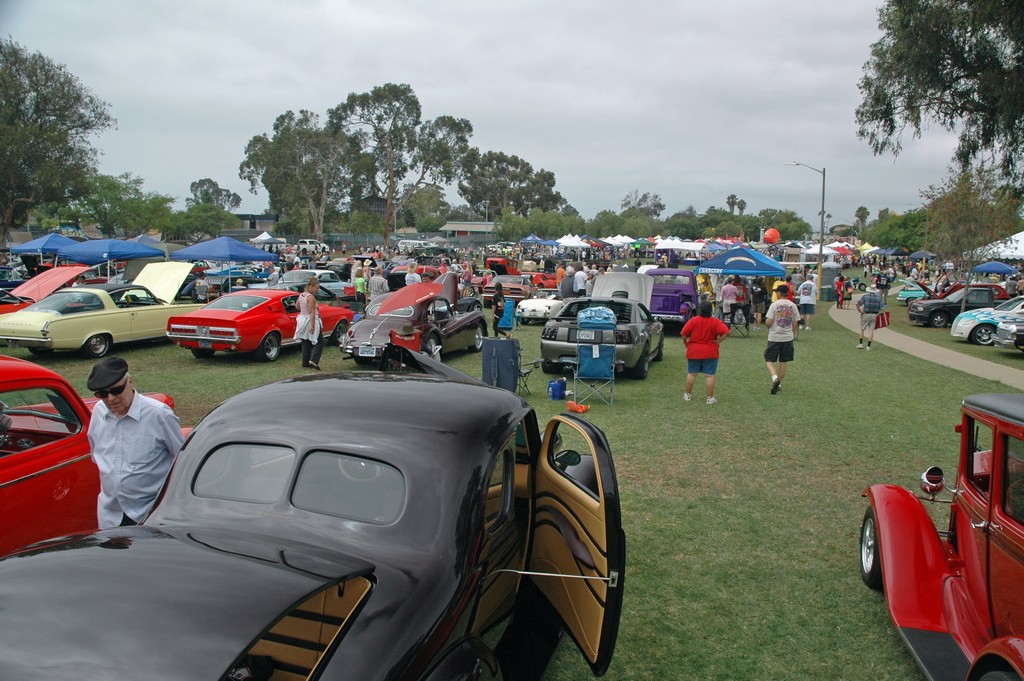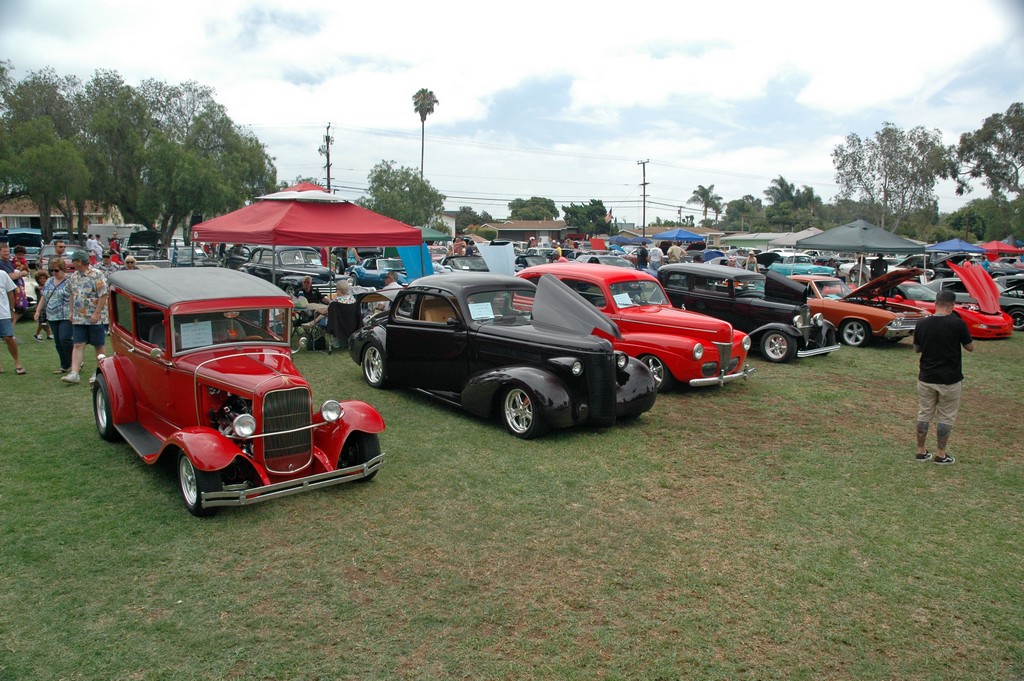 The show was over by 2:15 PM and we were home by 3:00 PM.  Another wonderful day in San Diego County.
George Cowman
Wagon Master – Greatest Show on Turf 2015