Wagon Master Report – RB Spirit of the Fourth Wheels of Freedom Car Show 2015
The Wheels of Freedom Car Show is now history. What a wonderful day! The weather stayed cool most of the morning, and everything went as planned.
The volunteer setup crew arrived before 6:00 AM and got to work.  Show signs where setup, the registration area decorated and organized, and the Public Address/Music System assembled and made operational all before 6:45 AM. Participants started arriving almost as soon as the setup crew began working, but the parking and registration crew took it all in stride.
We had 132 cars pre-registered for the show, with 23 no shows, and 5 register at the show, ringing total participation to 114 cars.  Of the 114 cars participating, 37 belonged to Poway Cruisers, roughly a third of the show. It was a great showing for the club.
Participants spent the morning relaxing, greeting friends, having breakfast provided by House of Pancakes and prepared by the Knights of Columbus. Some also walked around Webb Park and saw what many RB merchants and organizations had to offer. There was even a Rubber Ducky Race on the Webb Park Pond, and a Veteran Memorial Service complete with a Color Guard. Spectator traffic through the show was very enthusiastic, and seemed much heavier than last year.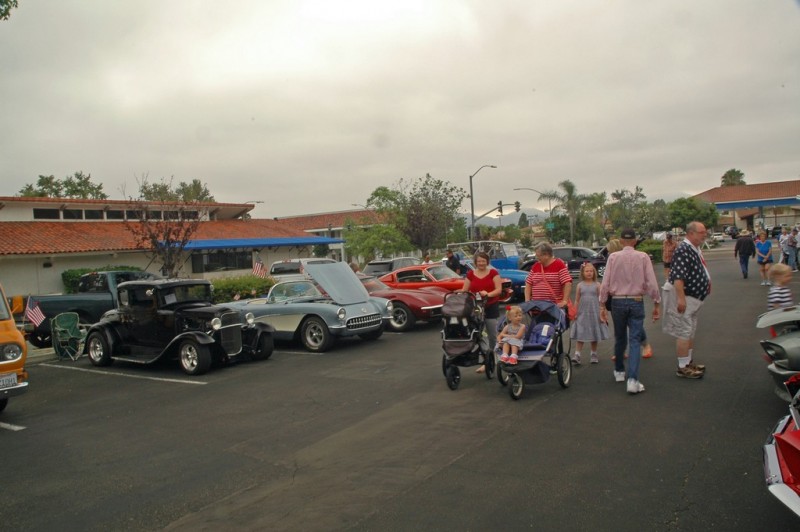 Voting for the Awards of Excellence proceeded until 11:00 AM when the polls where closed and the vote tabulation started.
The awards were presented starting at 1:15 PM. The results are as follows:
Awards of Excellence (in no particular order):
Keiichi Yamamoto's '55 Jaguar XK140 (PC)
Earl Asbury's '29 Ford Model A Sedan Delivery (PC)
Dick & Pat Knutson's '57 Chevrolet Cameo Pick Up
Larry Kucera's '60 Chevrolet Impala
Bob Chamber's '30 Ford Model A Coupe
Michael Miller's '56 Chevrolet Bel Air
Mike Abramson's '67 Chevrolet Chevelle SS396
Gerald Boucher's '58 Cadillac 4dr HT
Dennis Stover's '64 Mercury Comet
Ryan (No Last Name) '56 Ford F100 Pick Up
George & Joyce Cowman's '37 Buick Special Coupe (PC)
Bob & Trudy Romero's '56 Chevrolet 2dr HT
Ron Stahr's '66 Chevrolet K15 4X4
Michael Adams's '63 Chevrolet Corvette Split window Coupe
Chuck Kramer's '28 Chevrolet Touring (PC)
Ken Willers's '62 Chevrolet Nova Convertible
Stu & Donna Shandle's '39 Ford Coupe
Bill & Molly Personius's '67 Ford Mustang (PC)
Doug & Carole Gates's '21 Rolls Royce Silver Ghost (PC)
Denise & Jim Payne's '31 Ford Coupe
Best 4th of July Decorated: Barry Penn's '50 Ford Woodie
Best of the Poway Cruisers: Ron & Kathy Shedd's '40 Ford 2dr Sedan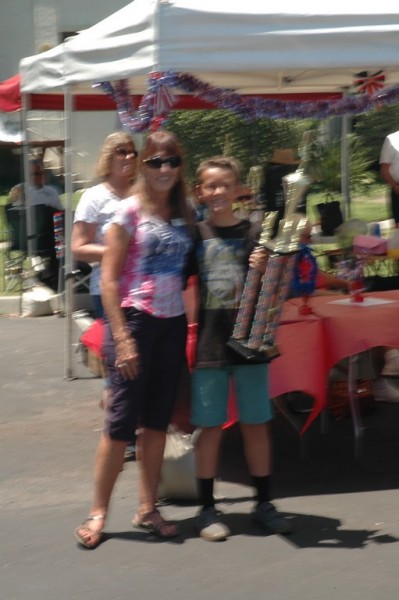 Best of Show: Davis Lewis's '49 Buick Sedanette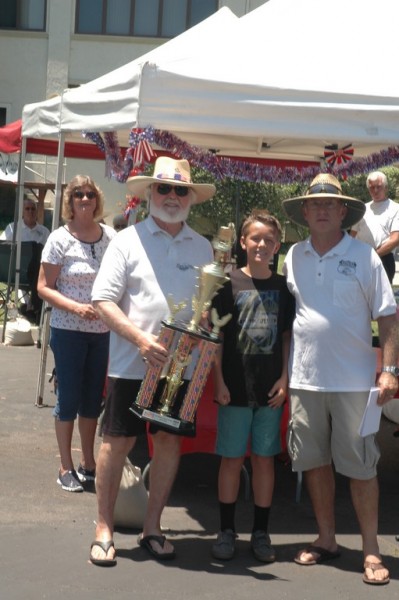 A special thanks to all the Poway Cruisers that stepped up and volunteered to help make it a fun day for everyone.
We had a great crew for the morning setup that included Bill Bryan, Linda Bryan, Dewey Smith, Bill Personius, Matt Galaski, Joyce Cowman, Andrew Cowman, Brenda Grinceri, Rick Milford, Earl Asbury, and Ron Shedd, and probably a few others I don't remember. I do remember who brought Donut goodies for everyone to share: Chris Cowman, Rick Milford, Bill & Linda Bryan, and Lynn & Leonard Kunce. YUMMY!
Parking was managed by: Dewey Smith, Gerrie Griffin, Rick Milford, Mike Sherbo, and Matt Galaski.
Participant registration was handled by Brenda Grinceri and Andrew (Drew) Cowman, with support from Joyce Cowman, Linda Bryan, and Mike Petermann.
Ballot processing to determine awards was handled by Kathy Shedd, Gerrie Griffin, and Bill Personius. The awards were presented by Travis Williams, Poway Cruisers President, with assistance from Drew Cowman.
Take down and clean up was handled by a bunch of folks, including Bill Troop, Earl Asbury, Joyce Cowman, Mike Petermann, Bill Personius, Matt Galaski, Rick Milford, Ron Shedd, and Travis Williams.
We were ready for business in less than 45 minutes, and were packed and leaving in less than 30 minutes.  Great job everyone! Finally, a very special thanks to Silvergate Retirement Residence & Memory Care Suites. Silvergate contributed the funds to purchase the car show trophies. Silvergate currently operates 2 retirement and memory care residence in Fallbrook and San Marcos.  Their 3rd is currently in development and construction in Rancho Bernardo and will be their flagship location once fully operational. If you'd like more information check out their website at: http://silvergaterr.com/.
George Cowman
Wheels of Freedom Car Show Coordinator
Click on a picture to expand.